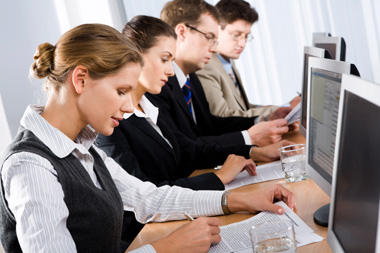 Cambray Solutions Information Technology training has become vital in helping businesses achieve their goals. IT departments must align themselves with business strategies and deliver clear value in solving business problems. Therefore, it is critical that the people in various IT roles throughout your organization be adequately trained and skilled to support business goals Cambray Solutions offers all the latest technologies from the leaders in the industry: Microsoft®, Cisco®, Citrix®, CompTIA®, VMware®, Six Sigma®, ITIL® and more.
Each day you face the challenge of improving how your business uses resources to serve your customers, be more profitable, and prepare for the long-term future. Employee training and development remains among the highest return investments you can make, providing such tangible results as: increased employee productivity, improved job performance, higher morale, greater retention, and reduced recruiting costs. Cambray Solutions has provided practical and innovative corporate training solutions to help organizations overcome operational challenges and take advantage of emerging opportunities.
Cambray Solutions offers a variety of learning solutions to fit the needs of any organization, individual, or government agency. Our offerings include PC applications and graphics software instruction as well as highly technical IT training and certification program training, professional development, and business skills training. In addition to offering public classroom-based courses, we can customize courseware, provide training at your company location, or roll-out an enterprise-wide training program. We even offer room rentals, with or without computers, at our partners state-of-the-art facilities.
We are part of the largest, independent training organization worldwide. We help organizations and individuals achieve results, increase productivity and efficiency, drive revenue and reduce costs by providing the high quality yet cost effective learning solutions. Cambray Solutions has earned the reputation as the provider of choice for professional development and computer training services. We consistently strive to exceed the level of excellence for which our customers know us and are dedicated to promoting the success of our clients through quality training.